GallopNYC is an amazing organization that Mind Brain Philanthropic Foundation supports and that Regina Schroeder specifically has loved for a long time. In fact, you'll find information about GallopNYC identified on this site as a charity we support.
So you can more fully appreciate what makes GallopNYC such a remarkable organization, we put together this Q&A with Regina.
Regina, how did you first discover GallopNYC?
RS: I first rode regularly with my friend Robin Baker Weisbrod around 1978 on the magnificent Joker at Turkey Creek Stables in the foothills of Colorado Springs, CO. I only thought I loved riding then, but I really love it now that I have visible trouble walking, needing at least hiking poles and often a wheelchair to cover more than 100m. When I ride, I cover ground as quickly and efficiently as every other rider.
As my walking was getting increasingly worse after 2010, I began thinking of riding horseback as therapy for my gait. A neighbor, Erin Gibson, had been an instructor at GallopNYC and was very enthusiastic about using it as a gait therapy for MS.
'Gallop NYC' really does stand for 'Giving Alternative Learners Uplifting Opportunities'. You may be an alternative learner due to the way your mind or body functions. "Whatever the case", Gallop NYC founder Alicia Kershaw notes, "horses seem to have an answer".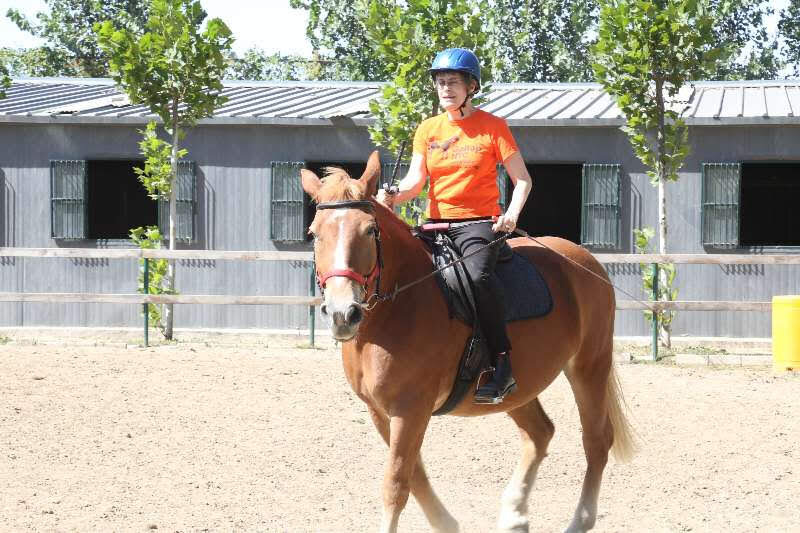 What's the history behind GallopNYC?
GallopNYC has a long and complicated history, which I don't know well enough to relate completely in this article.
Alicia Kernshaw who had volunteered at a therapeutic riding center in Hong Kong, came back to NY determined to make therapeutic riding available to New York City residents. They began accepting students in 2005.
Today GallopNYC serves more than 500 children each week through school-based programs—where the kids come as part of their curriculum—and individual lessons. It works, Kershaw says, because:
"a horse is the perfect physical therapy tool. It provides 360-degree movement and responsive input, and it's warm."
The program is also effective in treating PTSD resulting from service in the police, fire departments, and the military.
They currently offer lessons at stables in Forest Hills and Howard Beach, as well as trailering horses into Bowling Green in Prospect Park for lessons on about 30 horses. They are also able to offer opportunities for volunteers to help maintain the horses or to serve volunteers during the lessons. The volunteers are mission-critical to the mission of Gallop NYC. They can permit any willing student with a safe riding experience.
MS led me to GallopNYC
Although Erin Gibson had often encouraged me to go to Gallop, it was not until my former boss at the US Census, Cherine Anderson, insisted that L'hava Israel and I meet, that I finally got the information I needed to enroll at Gallop.  L'hava also has MS and is doing everything she can to stave off the cascading effects.  L'hava gave me the contact information for Gallop, and by  October 2017, I had my first lesson in Prospect Park.  Dana Fairburne, who is also an aerialist(!), was my first instructor.  Dana was not amused when I tumbled to the ground after I attempted to dismount the horse without her assistance. I wound up on the ground, still attached to the horse by my left foot, which was still in the stirrup. Now, I wait for an instructor to tell me to dismount.
What do you love about GallopNYC?
There is such a profound sense of shared purpose when a group of people who know they have issues come together, trying to get better. It permeates GallopNYC completely and includes riders, their parents, their PCAs, the instructors, the mission-critical volunteers, and even the Board Members who visit.
Everyone is better just for being there, getting even better, and helping everyone they meet sling the way get better, too.
Add the horses themselves, who I believe actually understand themselves to be helping humans, and your sense of awe and astonishment is complete. (I have no idea if or how you could test this hypothesis that the horses know they are helping. I spoke once with a taxi driver who told me he had read that there were protests when cars began replacing horses. These protesters decried the potential loss of invaluable human interaction with horses if cars were to replace horses. Again, I've never been able to confirm the existence of these protests, but I never forgot the concept that some people have recognized that interaction with horses is beneficial to humans beyond the horse being a service animal.)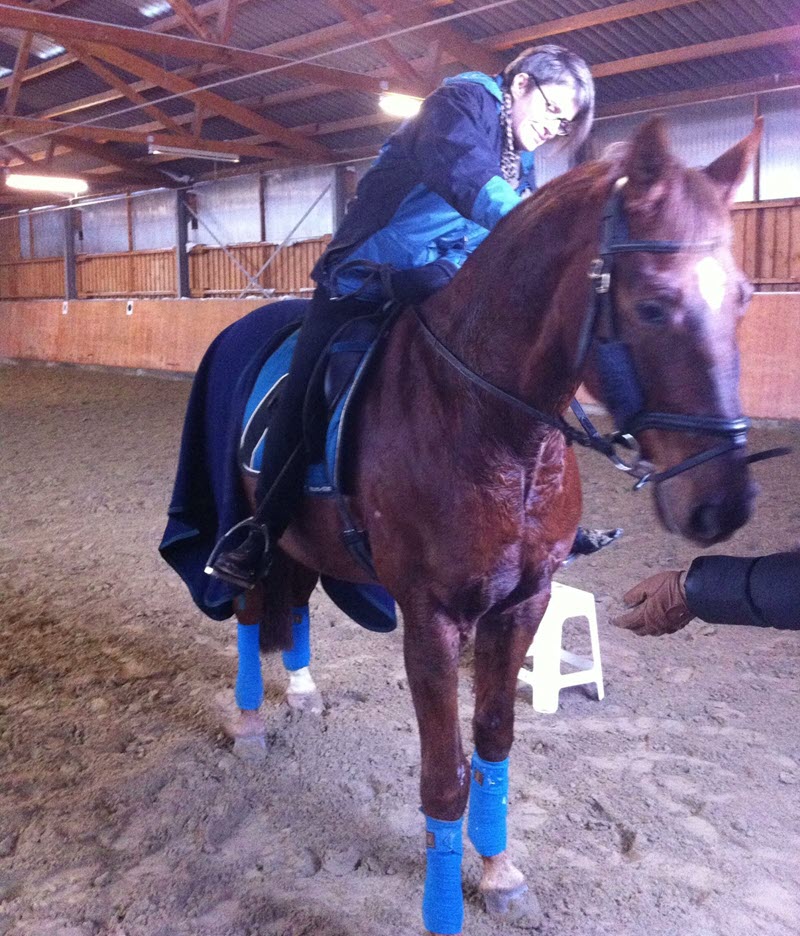 What is therapeutic riding like?
Liking horses the most is the obvious reason to like riding, but at Gallop, you soon begin to realize what a profoundly magical experience therapeutic riding is. And it's not just your personal riding.
I especially love watching the kids with their parents. I've seen one young man whose dismount is routinely handled by his mother, a young, slim, and strong woman, who is about the same size as her son. The volunteers step back respectfully and let her handle this dismount. He leans his helmeted head to the side of the horse and down toward the ground, launching himself headfirst into the waiting arms of his mother. She grabs his torso and flips him upright. Then, carrying him like an upright log, she totes him 20 feet to his wheelchair, where she sets him down. It is an astonishing feat of trust and experience. You are likely to witness feats like this at all Gallop, NYC locations.
It is just incredible to see the looks on the parents' faces as they watch their special needs kid ride a horse around the arena, controlling them with leg and voice commands. And I especially love to see the fathers accompanying their sons and daughters to their riding lessons. It's just a nice feeling to see everyone care. To see the experience that can be afforded to anyone with a lot of will and coordination of effort. Yearly, there is a Gallop NYC horse show, where all the students demonstrate their abilities. L'have and I, both women of vintage, especially love the horse show. L'hava noted one year:
"I feel pretty good when they hand the ribbons out. I have to laugh at how happy I am when I see the riders to my left and right are children!"
And we laugh some more.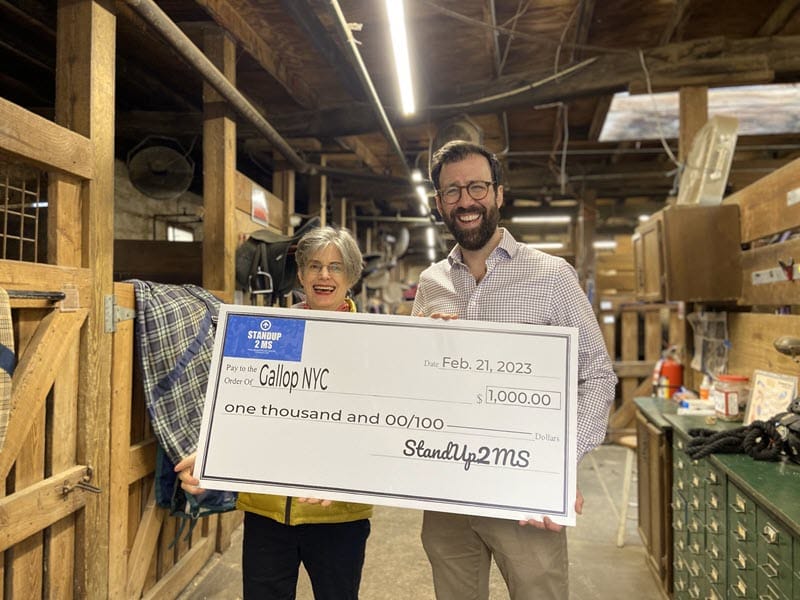 That's Why You, Too, Should Support GallopNYC!
Ride or volunteer at GallopNYC. It quietly changes you and gives you a better understanding of what we all do together.
Thanks for riding.
Acknowledgment to: https://www.williams.edu/feature-stories/gallopnyc/