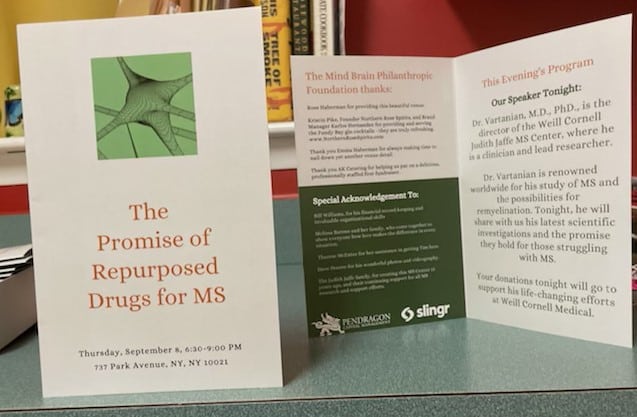 Please be Our Ambassador: Help Mind Brain Philanthropic Foundation Raise $3MM.
Mind Brain Philanthropic's first fundraiser 'The Promise of Repurposed Drugs for Multiple Sclerosis,' held on September 8, 2022, was a resounding success. About 40 attended, raising $30,000. In addition to discussion, food, drink, and fellowship, Dr. Tim Vartanian spoke about the research his team has undertaken and its importance to ongoing MS investigations.
In 10+ years of MS fundraising, we've learned that research takes time, money, and generous donations. Innovative investigations need funding to bring us therapies to prevent MS in the first place, and to make it a more livable chronic disease.
As a Foundation Ambassador, you can help us get the word out about the research, the progress, and the Foundation's $3MM fundraising campaign.
What Inspired Us To Form Mind Brain Philanthropic?
In 2019, we learned of some of the research investigations led by Dr. Tim Vartanian along with a group of investigators at Weill Cornell Medicine and Rockefeller University. We understood the work to be so important to furthering the quest for therapies and remyelination, that I, along with a group of patients and their friends, started the Mind Brain Philanthropic Foundation to raise money for scientific research investigations.
Mind Brain Philanthropic, a foundation formed by patients and their caregivers, feels this research is so important we've taken it upon ourselves to raise the $3 million needed to complete it.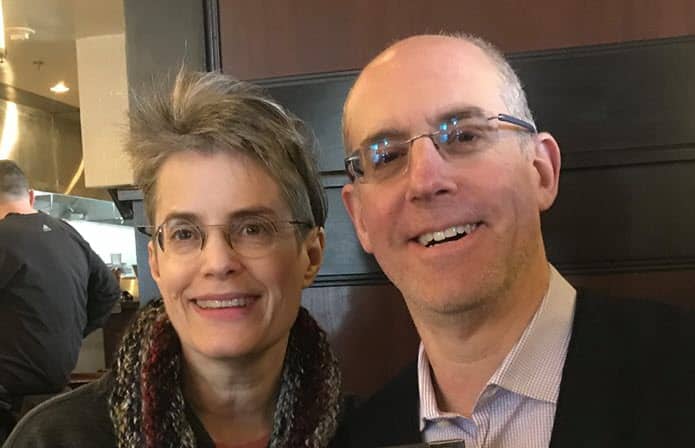 Your Mission as Mind Brain Philanthropic Foundation Ambassador
We are committed to raising the $3MM necessary to move the groundbreaking work at Vartanian Labs to the next level and we need YOU to be the Foundation's ambassadors.
As ambassador, please tell everyone you know about this patient-led effort to raise the research dollars so my neurologist, Dr. Tim Vartanian, and his team of talented and enthusiastic researchers, can continue their research.
Below is a recap of the event's highlights, including the research that is so promising for the MS community, to inspire you in your role as ambassador.
The Promise of Repurposed Drugs for Multiple Sclerosis
Vartanian labs at Weill Cornell, and Rockefeller University is in the process of investigating which of the hundreds of drugs currently FDA-approved for other diseases are most likely to be effective therapies for MS patients, some, potentially, as remyelinators of nerve coverings damaged by Multiple Sclerosis.
The lab has already identified many candidate drugs, but much more study is needed for repurposing but much more study is needed.  For example, longitudinal studies need to be performed on healthy controls and patients with MS over many years and in many locations.
That evening, Dr. Vartanian spoke about research in general and remyelination and repurposing drugs for use in MS in particular. By repurposing existing compounds these potentially vital therapies would be available to patients much faster.  Vartanian Labs at Weill Cornell Medicine, along with researchers from Rockefeller University, have made many discoveries concerning MS, discoveries that Dr. Vartanian said were not being made or further pursued at other labs. 
Here is the 15:56-minute edited version of his 45-minute talk, The Promise of Repurposed Drugs for MS.
As an Ambassador, Help Protect Researchers at Risk
Pictured below is Dr. Jennifer Linden, who, we learned, is one of three researchers at the labs whose investigations need continued funding. If institutions do not have adequate funding, they need to let these dedicated and talented scientists go.  Let's get the funding Weill-Cornell needs to keep Dr. Linden on staff and remove her from the "Researcher at Risk" category.
Dr. Linden is and has been making new and exciting discoveries in understanding MS. We need to keep her funded so she can keep driving the frontier of MS.
The Clostridium Perfringens Bacteria and MS
She has led research that indicates that the first step to contracting MS may be an infection from the clostridium perfringens bacteria. 
C. perfringens produces epsilon toxin in the small intestine. Additionally, people with MS are much more likely to have antibodies to epsilon toxin than people who don't have MS. When this epsilon toxin gets into the bloodstream, it damages three types of cells that are ravaged by MS:  the endothelial cells, which is known as the blood-brain barrier, as well as lymphocytes, and oligodendrocytes.  This discovery potentially revolutionizes current thinking about the origins of MS.  If it can be figured out how to stop this infection from taking place, it would mean stopping MS in its tracks.
Quantifying the Damage MS Does in a Living Patient
We learned how important it is to quantify the state of an individual patient's MS, both for the patient personally and any investigation in which that patient is a subject.  Dr. Linden, for example, in work separate from her work on c. perfringens as a cause of MS,  discovered that the brain damaged by MS  sheds vesicles when they are damaged. So she developed a blood test that can reveal the state of damage in the brain.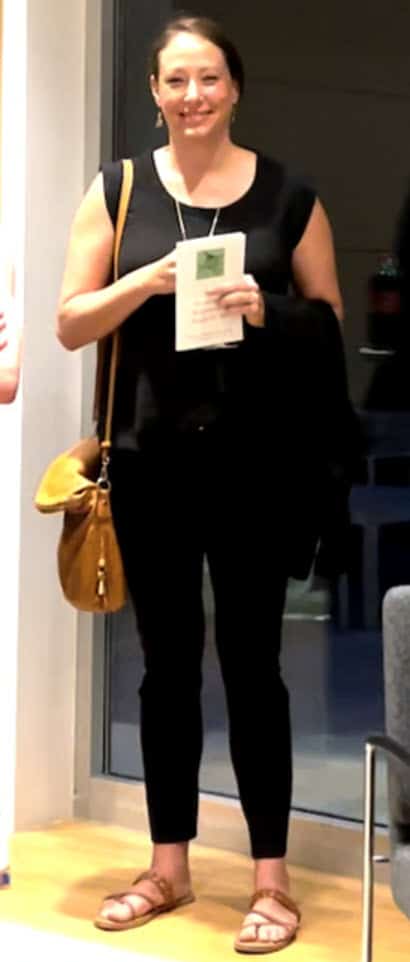 This is remarkable when you consider that prior to this discovery you had to crawl into an MRI to get an idea of how MS was damaging the brain. It gives researchers real-time information about the extent of damage in a living patient from a simple blood test.
The Importance of Imaging Techniques to MS Research
Another critical member of the team of researchers cracking the never-ending enigma of MS is Dr. Susan Gauthier. She is an innovative and thankfully tireless MS researcher whose work has yielded better imaging techniques to assess the state of myelination in living patients.
Without her imaging techniques, it would be impossible to quantify whether an investigational therapy is working or not. Dr. Gauthier worked in collaboration with physicists to formulate tests that allow investigators to measure things like myelin regrowth and iron in the brain, previously only measurable at autopsy.
Without funding, Dr. Gauthier's work is at risk.
You'll learn more about Dr. Linden, Dr. Gauthier, and Dr. Rumah in an upcoming article.
Thanks To These Mind Brain Philanthropic Foundation Ambassadors!
Your support and enthusiasm for Mind Brain Philanthropic Foundation's $3MM campaign made this first fundraising event a terrific success. For example, thanks to a friend and long-time supporter, Ross Haberman, we kicked off this first event in a sparkling venue.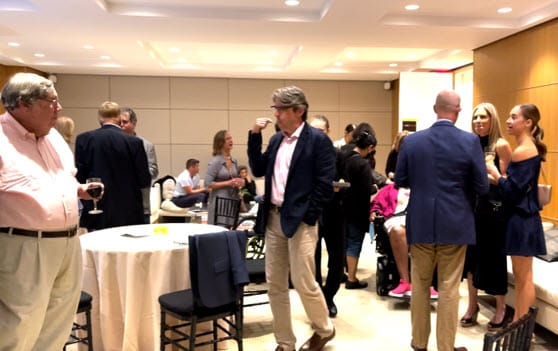 Ross, Lance Gad, and Janiece (not shown) have been wonderful supporters since Regina and Ian became involved in fundraising for MS shortly after seeing Dr. Vartanian in 2011.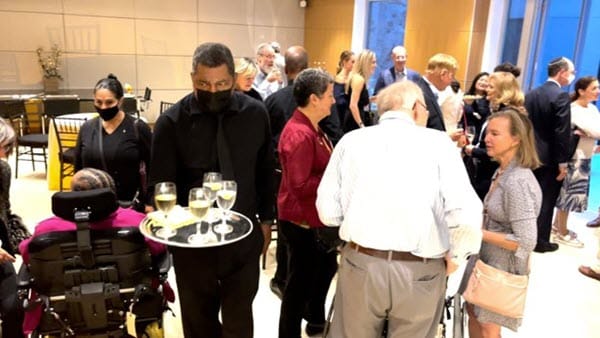 As you can see from these images, everyone attending had a good time. We enjoyed the delicious cocktails and food catered by Abigail Kirsch Caterers.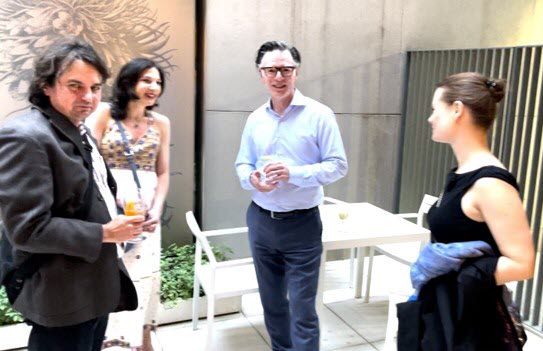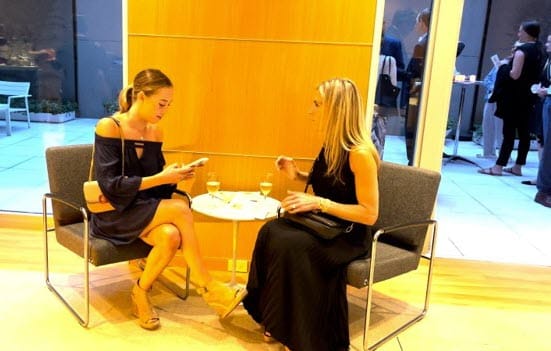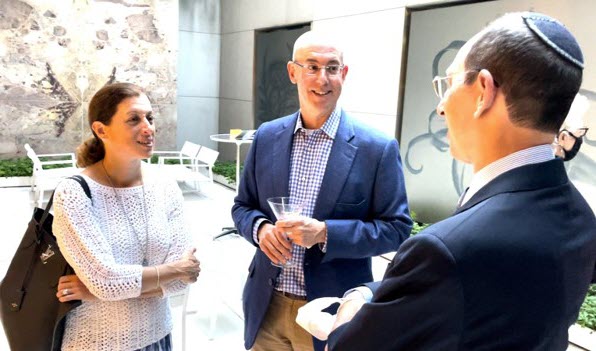 Jerry Balsam kicked off the Q&A with a question about whether a virus that penetrates the brain could be used to deliver some therapeutic agent to the brain. These questions demonstrate that the research being done in MS contributes to the field of medicine in general.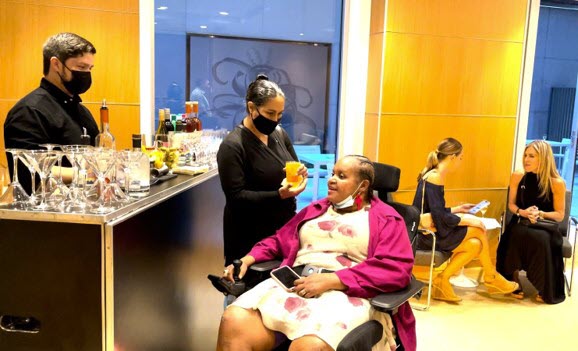 Karlos from Northern Rose Spirits kept the cheer flowing with Fundy Gin.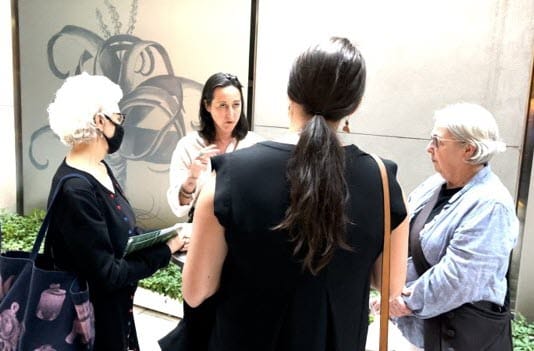 A special thank you to Kristin Pike, center-facing viewer, of Northern Rose Spirits who brought the delicious Fundy Gin and Amarmalade.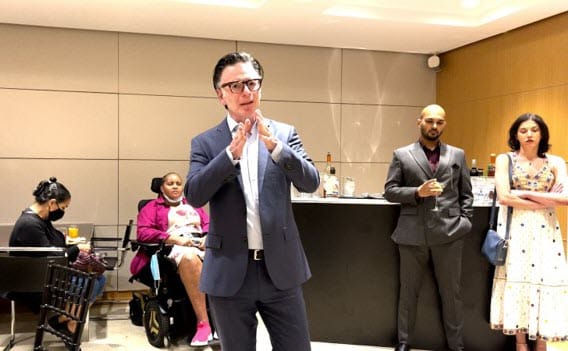 Vartanian labs and the investigators at Rockefeller University are making discoveries that are changing the narrative surrounding the origins of MS.
They are creating innovative imaging techniques that will allow investigators to see in living patients the ongoing effects of MS as well as measure exactly how potential therapies are helping patients and devising simple blood tests that indicate the state of deterioration of the brain with MS.
Please Help By Telling Everyone About This Exciting MS Research: Be an Ambassador for Mind Brain Philanthropic Foundation.
Do you feel as energized as we do?
The MS-focused research of Dr. Tim Vartanian and his team, including Drs. Linden, Gauthier, and Rumah, is generating promising results, and this Foundation is committed to supporting these efforts. We hope you'll join us by sharing the link to this article, getting the word out about those involved in this effort, and donating.
You can also follow Mind Brain Philanthropic Foundation on:
Thank you for reading.
Regina and the Mind Brain Philanthropic Foundation Team